Bring the small hands and feet and we'll do the painting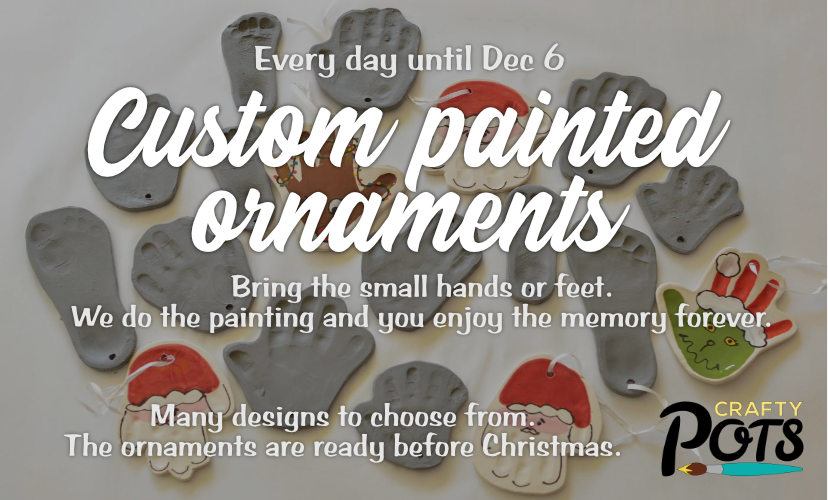 Bring in the small hands and feet and we'll turn them into Penguin, Reindeer, Santa, Christmas Tree or Snowman clay ornaments.
Our super duper staff will paint the ornaments and turn them into priceless keepsakes for your family and friends, ready for pick up by Christmas.
The ornaments will be personalized on the back with the childs name and year so come on in and make the perfect gift for this Holiday season. Only $25 per ornament.
Takeout and sit-down painting
Come on in to browse, drop off painted items or pick up finished artwork
Four tables available
Four tables for four people are available in the main studio and one 6 person table in the separate party room, plenty of open space with about 8'/2.5m between each table. We'll expect everyone to wear masks throughout the visit and to wash hands before touching anything, thank you 🙂
Open 12 pm to 6 pm for walk-in and pickup. With reservation you can paint until 9 pm Wednesday to Saturday
Drop ins are welcome 11 – 6 pm, but you can also make a reservation at 905 477 0002 for a guaranteed table for a specific time. If coming to paint after 5 pm a reservation is necessary.
If there are no painters we'll close at 6 pm, and the hours may change so please check the website.
Even cleaner than normal
The staff wears masks for your protection, the lovely scent of Lysol wafts enticingly through the air, and the surfaces are even cleaner than they usually are. Our hands are pink from all the hand washing, and handles and the payment terminal are wiped regularly. Every brush etc. you use has been lysol'ed and guaranteed untouched by any other customer for at least four dayswhich is much longer than virus can live.
Best boredom busters, choose online or browse in the studio and paint at home
Paint at home, have fun and learn about colours – next day contactless delivery within Markham or come to the studio to choose.
Browse the many options for activities that we can deliver to your door! Two types of paint is available, both non toxic and easy to use. Figures are best painted with normal acrylics paint that can be enjoyed the same day. Food safe items like mugs, plates etc. are painted with ceramics paint and are brought back to be baked at the studio. Bundles are discounted, and are only available online. Delivery is free within Markham with a $40 plus tax purchase.

The entire selection is online so you can order from home and we'll have everything ready for you to pickup in the studio and paint at home. 

Ceramics paint becomes a super shiny, food safe and durable finish for mugs and plates etc. after items are baked back at the studio. 

Have a party while distancing. Choose from a great selection of items to paint while the kids are online together. Cookie is included!
Walk-in Studio Activities
Create, Connect and Celebrate
Book your next group event with us for the best party ever.
Events for kids and adults
Check the event calendar for activities
Skip the wait with Make and Take parties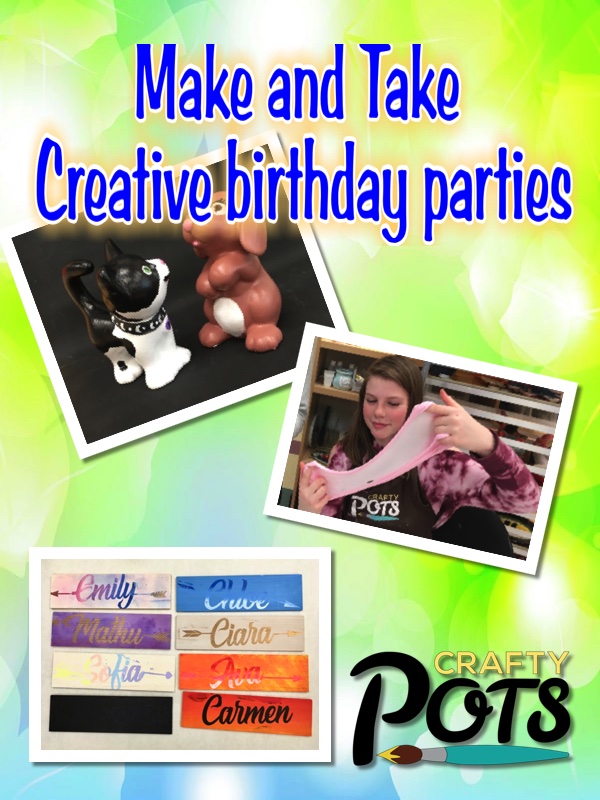 Ceramics painting birthday parties at Crafty Pots have always been popular. The results are amazing, the ceramic items are awesome and glossy after the baking which takes 5-7 days. It's now possible to SKIP the wait with three new kinds of MAKE AND TAKE birthday parties for 8 year olds and up.
The kids can now paint the 50 plus attractive items in the party selection with fast drying acrylic paint in many vibrant colours so they can come home the same day.
Name board art parties where the guests make the coolest name signs are also a hit. It is easy to get a great result with a custom made stencil for each painter.
Slime Science parties are super popular and super goooey and the kids get to experiment with colours to make it their own.
Give us a call and we'll make the next party the most stress-free birthday you've ever had.