Catch the light with glass
Glass fusing lets you create designs with coloured glass pieces. You cut out the shapes from sheets of coloured glass before arranging them on a base of clear glass. The results can be truly amazing.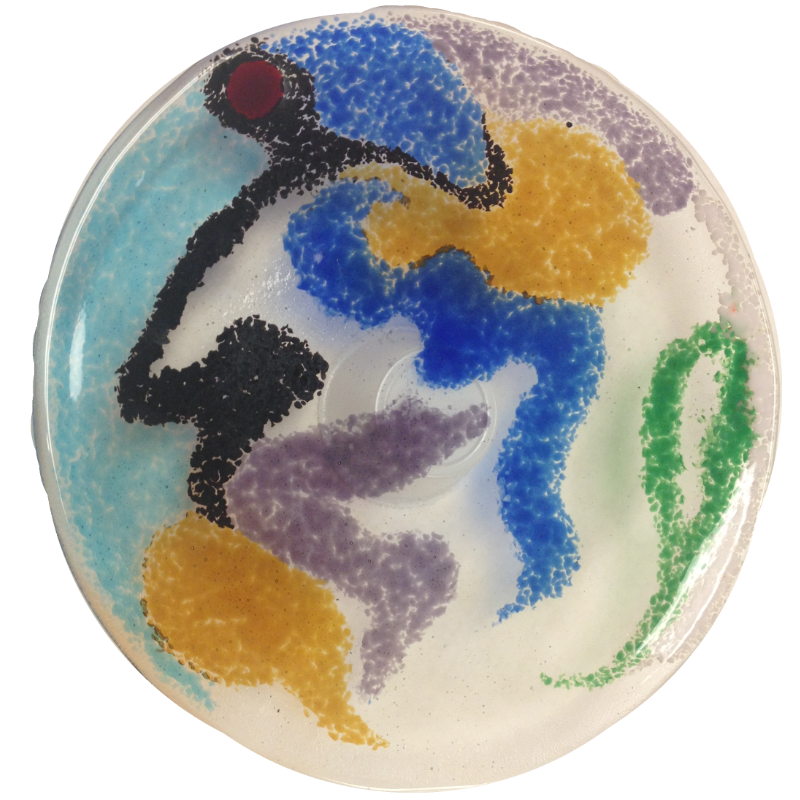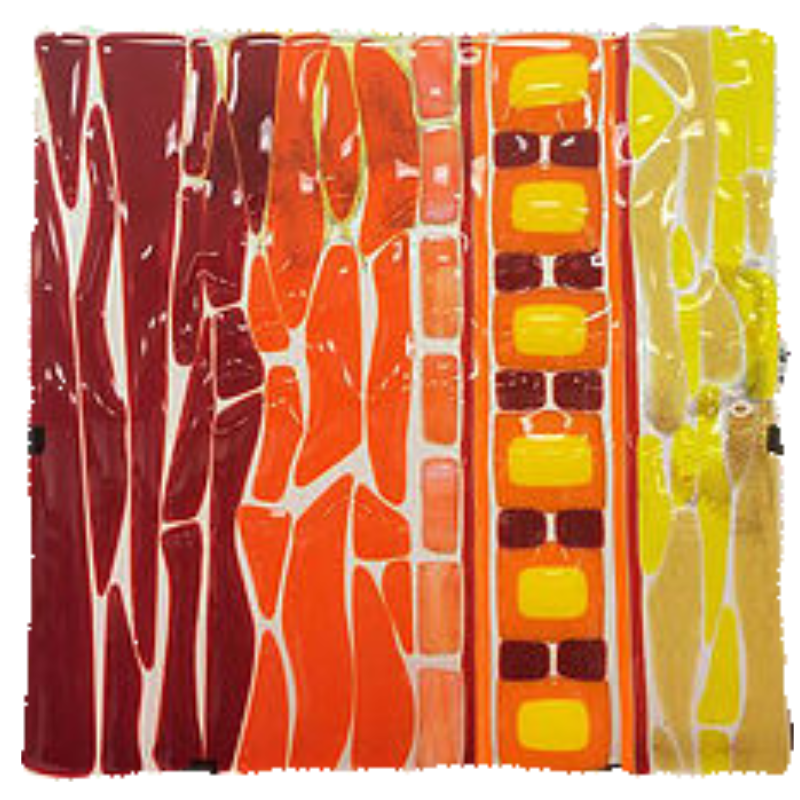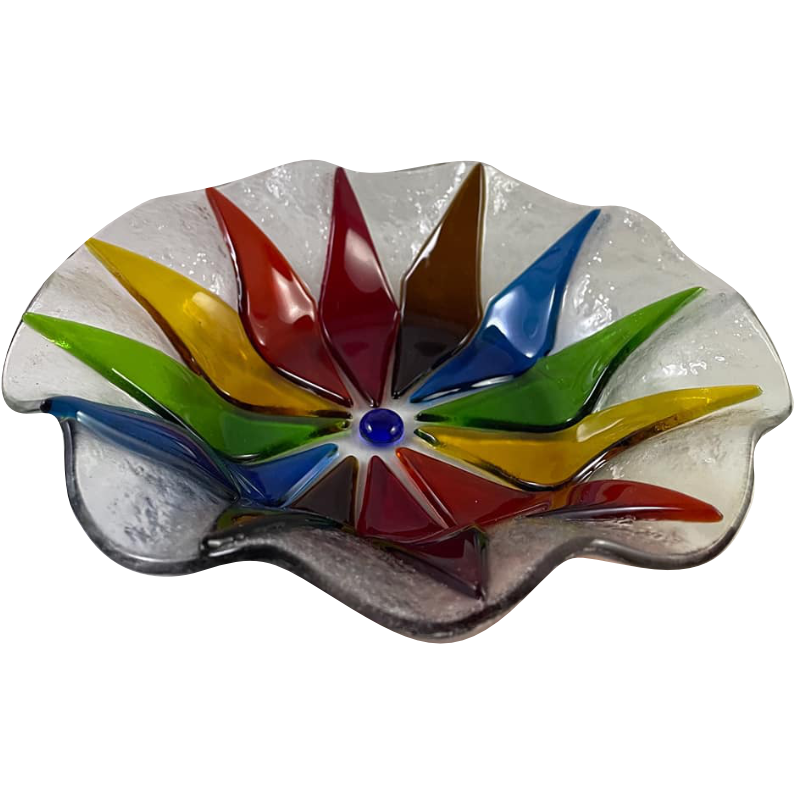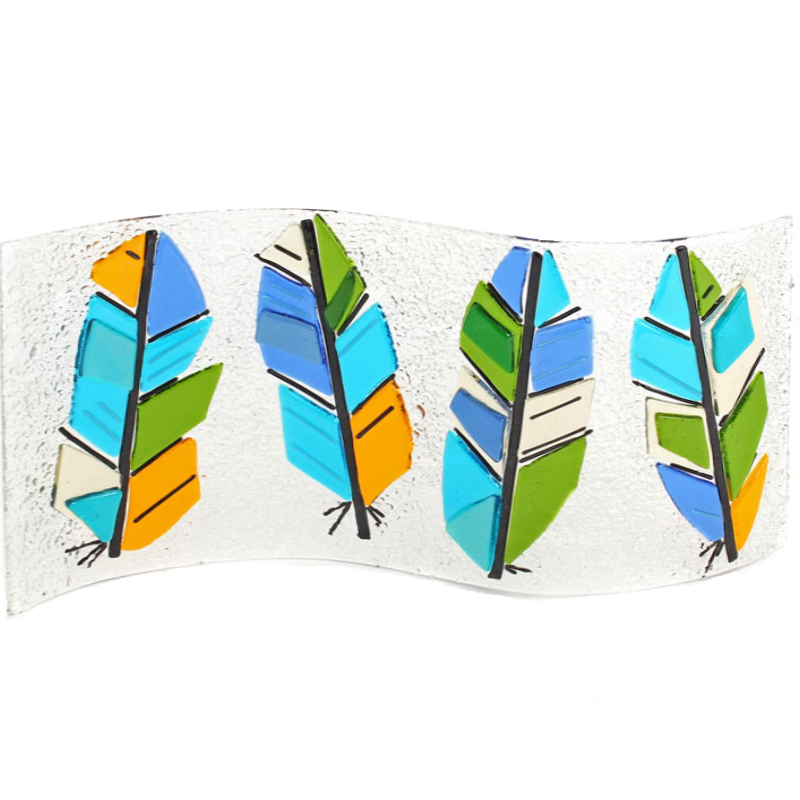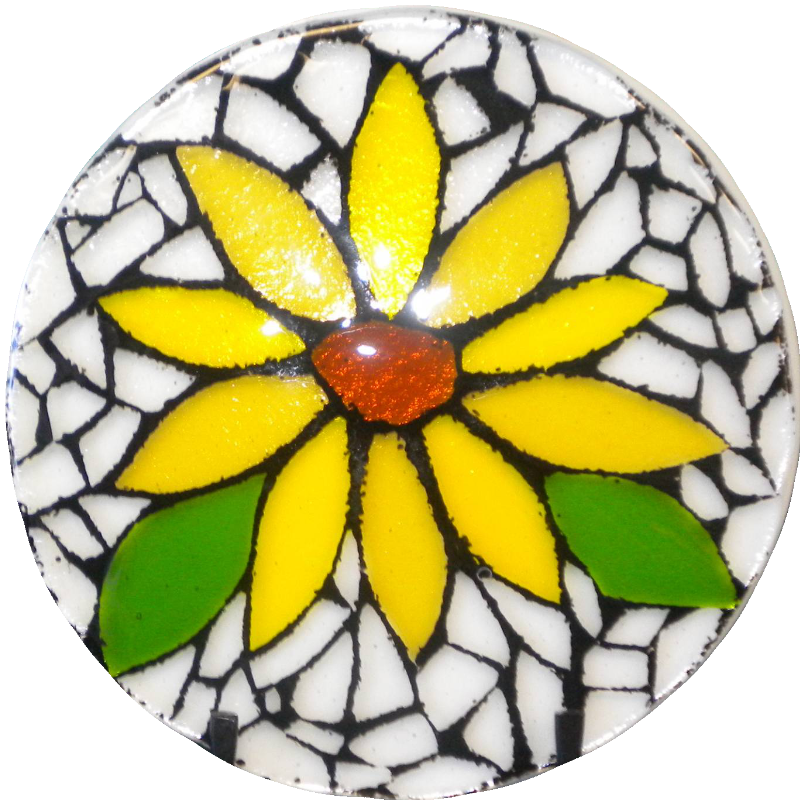 Look through the binder of project suggestions, or look for inspiration in advance to get started. When you've decided on your design, we explain how to use the tools and give you a safety briefing before letting you loose.
When you're done we'll do the fusing part for you, very carefully melting the design pieces and base together.
The projects can be shaped into trays and bowls to make them both useful and amazing. The prices depend on the size of the base you choose to work on and the options.
Stunning project created by an experienced artist
Caveat: Specialty glass like the stunning red Godiva or green Lagoon style used here becomes available once you've completed some projects with the regular glass. Normally a whole sheet can not be cut up like this, but this project was just so amazing!
Step by step beginner project
Step by step to a stunning result
Planning your design is the first step. You can mark up cutlines on the glass with sharpie.
A glass cutter makes a scratch in the surface and the glass can be separated. Curves are tricky and require care when separating.
Several tools are available for fine tuning the shapes.
The pieces are secured to the base with a very small amount of glue so they don't slide around.
Crushed glass called frit can be used to add texture.
After baking all the pieces are fused together and the sharp edges are rounded over.
How much does it cost?
The price depends on the size of the base you choose, and the options you want. The design layer is one layer of coloured glass on top of the base. The design layer cannot be multi-layered (3D). The design layer can cover up to 50% of the base area with no extra charge.  
For a clear base
Two 4″ x 4″ – $40 (one person, not shareable)
6″ x 6″ – $50
6″ x 12″ – $65
8″ x 8″ – $65
10″ x 10″ – $80
Special options/charges
More than 50% coverage – $10 to $30 depending on size
Smooth finish (special baking, requires 100% coverage) – $10
Shaping – $10
Round base – $10 to $18 depending on size
Coloured base – $10 to $18
How long does it take?
For adults two hours is common, but three, four are not unusual. It depends on the design you are going for.
Children can build easy and colourful designs from the treasure chest of safe to touch glass pieces in around an hour.
We can not store any glass "work in progress" projects, so please make sure you give yourself enough time. 
Can I use the things I make?
Glass projects are mostly decorative, some sizes can be shaped like plates but because they are very fragile we do not recommend using them for eating.
Store bought glassware have undergone a special process to make the glass resist breaking. When store bought glass items break, the pieces are less sharp, but glass projects will break into sharp pieces.
How long do I have to pick up the items?
We have limited storage space so once they're baked the items must be picked up within 30 days. We do not guarantee they'll be kept for more than 30 days, but if you need more time, let us know and we'll keep things longer.
We call  you as soon as the items are ready for pickup, and we will call at least twice more before the items are disposed. Make sure you check your phone messages. Unfortunately we do not compensate if the items were disposed.