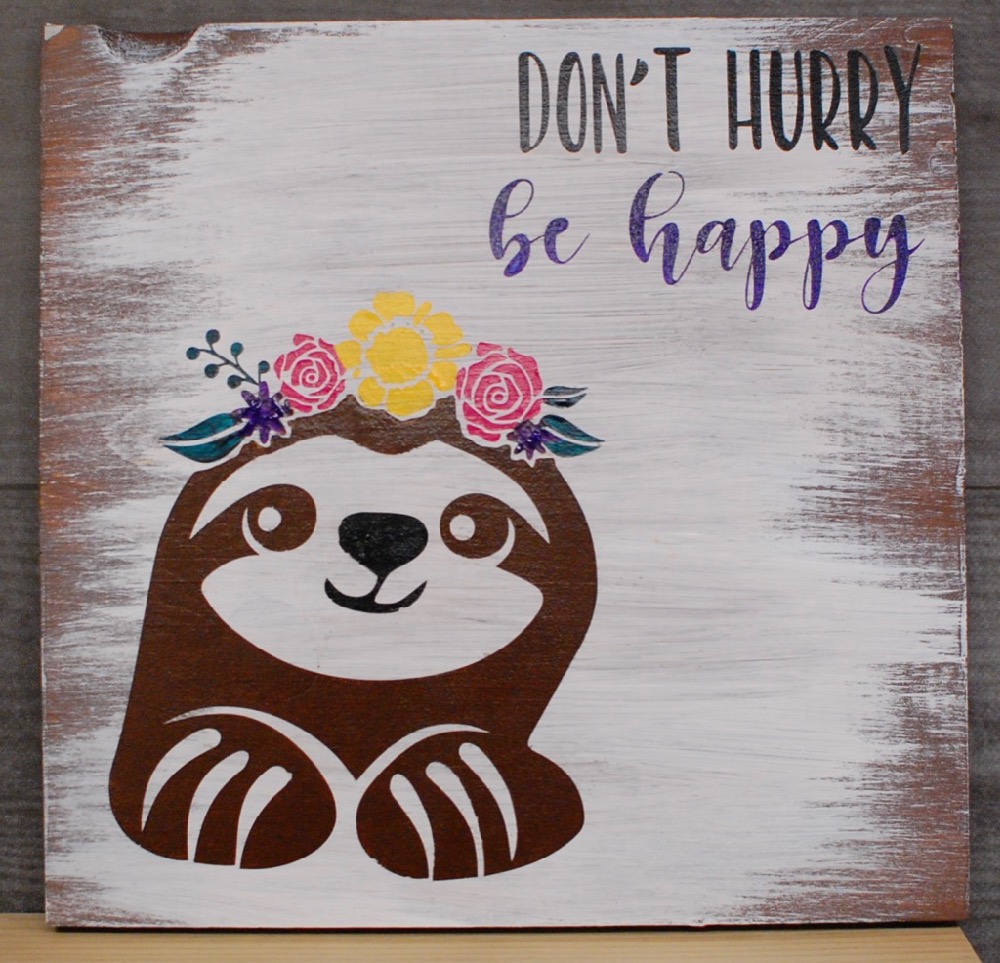 Wood sign making is a blast and it's so easy. A custom precision cut stencil is made for each painter and does all the work.
The painters can focus on colours and having fun painting the sign with fast drying paint and take it home the same day.
At least 8 different designs are available to be painted on a 11″ x 11″ (28cmx28cm) wood board.
Available for 7 year olds and up.
Price: $24 plus tax for each painter. Minimum 8 painters, max 25.
Our highly trained party leaders will help with the whole process, and the painting part will take around an hour and 15 minutes, leaving the rest of the two hour party for food, presents, singing and playing with the photo booth.
Please see the terms for questions about food etc.
What's included
2 hours in the party room
11 " square wooden sign with hanger, custom cut stencil and all supplies.
A dedicated staff member will help you make this a great and stress free party. The staff member will help with the painting part of the party, and you're in charge of the "party" part of the party. Of course we take care of the cleanup! The tables are covered in white paper and there is a separate table for food and presents, but plates, napkins, cutlery etc. are not included.
As many Invitation cards as you need and Thank You cards to hand out at the end of the party.
A special VIP family pass good for 10% discount on ceramics for four people, valid for 6 months from the date of the party.
Weekend parties starts at 11am, 2pm or 5pm. On weekdays you may choose the start time. On weekends it's possible to start earlier than 11 am if desired. This does not change the duration.
Terms
A non-refundable deposit of $50 is necessary to secure the time and date. The deposit is applied to the final bill, which is due at the end of the party. Host must pay entire bill, guests cannot pay individually. If the party is cancelled, the deposit will be converted to store credit. The minimum charge to book the party room is for 8 painters.
Party food like pizza, snacks (fruit tray, cupcakes, chips or similar), drinks and of course cake are welcome. We request that no nut products be brought in but cannot guarantee to be nut free.
If any meat (except pepperoni), is brought in such as wings, shrimps, sandwiches, catered food etc. you must take all garbage home with you. We cannot store garbage containing meat for health reasons.
Noisemakers, chewing gum, silly string etc. cannot be handed out in loot bags or used during the party.
Generally, the painters and attending parents have to remain in the party room for the duration of the party, and all children attending must paint.